Get To See Unique & Beautiful Places in Martha's Vineyard
Martha's Vineyard is packed with so many great things to do and see. Whether you go to see the famous Gay Head Lighthouse or you are riding America's oldest carousel, time can easily get away from you on this beautiful and historic island. The island is much bigger than many expect so make sure you plan accordingly so you can see & experience everything you want. Your local tour guide provides a one-of-a-kind, intimate tour experience so you can take in the culture and beauty of the island with your close friends and family. With 6 different towns to see, a private tour of Martha's Vineyard guided by a longtime local gives you the best chance to see it all.
Visit Each Unique Town in Martha's Vineyard:
Tour Options:
Take In Everything Martha's Vineyard Has To Offer:
On our tours, you will experience six diverse towns and explore unique places. By the end of our journey, we will have traveled 60 miles, and it goes by fast.
Touring this special place is made even better with convenient pick-up service wherever you stay in our comfortable and air-conditioned vans.
In Oak Bluffs, we'll stroll past the fairytale-like gingerbread cottages and ride on the oldest carousel in America. We'll also take a nice walk along the lively harbor or make our way over through Ocean Park to take in the sights.
Vineyard Haven is an adorable little New England-style shopping village where you can catch a sunset sail or walk to catch the view. Wander up and down Main Street, which is filled with cute shops and restaurants.
West Tisbury is where you'll find the oldest store on the island, Alley's General Store, which opened back in 1858. We'll also visit the art at the Field Gallery across the street and perhaps pose with the whimsical nudist statues.
Edgartown is mesmerizing, with a harbor and waterfront edged by stately white Greek Revival houses built by the old whaling captains of the island. The Old Whaling Church stands tall along with the Edgartown Harbor Lighthouse and the historic Harborview Hotel, a classical little town. Edgartown really belongs in a museum!
Over to Menemsha fishing village in Chilmark. We'll roll past rolling hills that run to the sea, dotted with goats, sheep, horses, and more. Framed by the miles of British-style stone walls. A stop at Menemsha fishing village is a common favorite stop!
In Aquinnah, the end of the island, witness our gorgeous and colorful clay cliffs. Check out the view of the spectacular beaches and search the horizon islands in the distance. Visit the unique shops owned by the Wampanoag tribe to purchase a piece of wampum jewelry. If you're feeling energetic, climb to the top of the Gayhead lighthouse, offering one of the best views on the island!
With morning, afternoon, and evening tours available there is something for everyone. Your tour guide will pick you up in an air-conditioned van from your ferry dock, hotel, or rental home and begin your tour then will drop you back off afterward.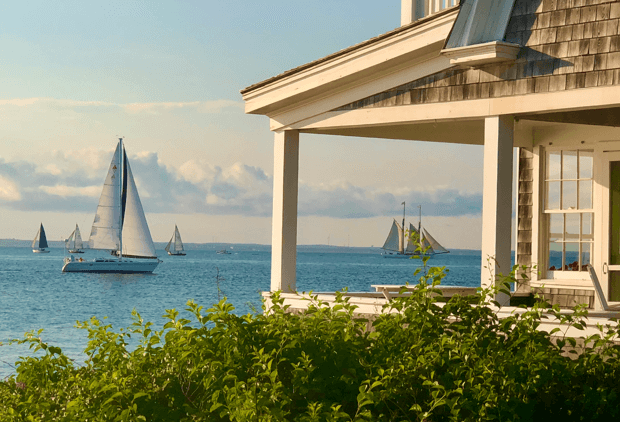 Click on the book now button and reserve your tour to make your visit to our island memorable! You'll see much more than we can put into words.
We can't wait to see you on the island of Martha's Vineyard!
"We pick up customers and drop off friends."
Frequently Asked Questions
Where is Martha's Vineyard located?
The island is part of Massachusetts and is about 7 miles off Cape Cod's coast.
How big is the island?
The island is about 9 miles wide and 26 miles long. With over 120 miles of beautiful shoreline, it looks little on the map but it ain't!
How many towns are there?
There are a total of 6 towns on the island.
Will the tour guide pick me up?
Yes, your tour guide will come to pick you up and will drop you off wherever you'd like after the tour.
Where will the tour guide pick me up?
Your tour guide will pick you up from your hotel, inn, bed-and-breakfast, Airbnb, at your ferry or rental, or anywhere else you may be!
Is there a ferry service to get to the island?
Yes, there are a total of 6 ferries that can bring you to the island.
What cities can you take the ferry in from?
Boats come from Nantucket, Hyannis, Falmouth, Woodshole, New Bedford, & Rhode Island!